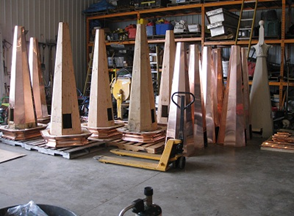 Copper Fabrication and Installation
We specialize in copper fabrication including historical reproductions. We are committed to the preservation of our valued historical structures, working with building owners and architects to keep the historical look while often improving function. Our craftsman have vast and varied experience working on historical structures from Lighthouses and period park buildings to private homes, libraries, churches and government buildings.
Our Copper and Metal Fabrication Services include:
Repair & restoration of historical copper roofing and other architectural features
Ornamental Copper fabrication – repair, restoration and fabrication of you unique copper/metal decorations
Copper & Metal Roofing Installation, repair and restoration – Standing seam, modern copper shingles, soldered shingle and flat roofs
Copper cornice, flashings, Fascia and Valleys
Copper Gutters & Downspouts
Copper Roofs for Bay Windows, Dormers
And much more… Call us for all your needs
Some of our projects that showcase our coppersmithing
We travel when the project requires, Call us today at 1-800-479-6855 with your needs large or small.