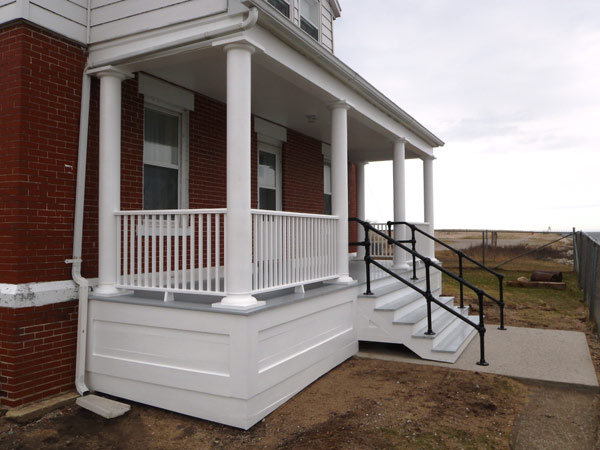 Rehabilitate Porch Grand Marais Harbor of Refuge Keepers Dwelling
Awarded projects in last 2 yrs: from Feb. 18, 2013
Name: Rehabilitate Porch Grand Marais Harbor of Refuge Keepers Dwelling
Awarded date/ Press release: Oct. 2011- Federal Business Opportunities website
Description of work: Demo existing deteriorating porch & Construct a new front porch on an existing lighthouse on the west channel wall to Lake Superior, out of Grand Marais, MI.
Materials used: Timbersil products, a green product which is an infused with glass lumber product. And Accoya wood product which also is a green product extremely fast growing hardwood. A custom fabricated metal handrail was installed, new foundation work, painting, wood siding, columns, capitols, and bases, concrete sidewalks.
Architect involved: Army corp. of Engineers
Relevant information: A small project that was extremely involved, including performing the work through the winter of 2011 and 2012 on the shore of Lake Superior. Worked closely with officer Chris Case of the National Lakeshore division.