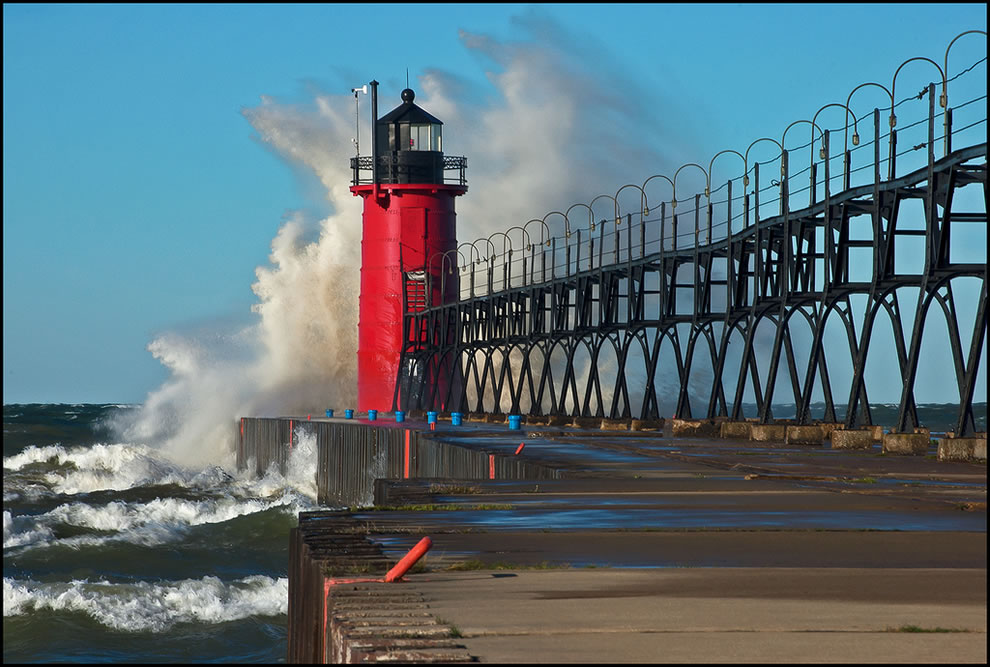 South Haven Lighthouse Preservation
Project: South Haven Lighthouse Preservation – South Haven, MI
Type: Entire Structure – Rust removal and application of rust converter, inhibiting primer  and moisture sealants to joints and perimeter ring structure.
Date Completed: October 2016
Project summary: The original South Haven lighthouse, a wooden structure, was constructed in 1872. It was replaced by the current steel lighthouse in 1903. The lantern portion is believed to be from the original lighthouse. The catwalk leading to the lighthouse is one of only four that survive in Michigan. In 2012 the lighthouse was decommissioned by the federal government and ownership was transferred from the U.S. Coast Guard to the Historical Association of South Haven with the stipulation that it be maintained. The new owners quickly realized that a major restoration of the deteriorating structure was going to be necessary The Historical Association then hired Mihm Enterprises to make the following restorations and repairs.
The Interior Lighthouse restoration project started in 2015.  On the top floor, ceiling panels were straightened, tin waist panels were restored to keep as much historic materials as possible.  The ceiling china hat/drip cap was replaced with glass and glazing compound. The second floor was prepared and made ready for plaster by completely sand blasting the interior metal surfaces and applying an epoxy marine coating.  After the second story was primed the plaster was installed, primed and painted.
The Exterior restoration project started in 2016.  The lighthouse had to be completely encapsulated to provide a negative air system which would capture the dust and debris created by the sand blasting of the entire exterior of the lighthouse.  Next a zinc rich marine epoxy primer was then applied to the exterior lighthouse, followed by a high build epoxy and finally a high performance urethane coating which was "Lighthouse Red" to match to historical color. Some glazing mullions required repair and a cast iron/bronze foundry made replacements, Brass vent screens were installed on the Lantern finial ball to allow for adequate ventilation.  This project was completed in approximately 7 weeks.